Retention: Stop guessing and go where the problem is
In 2022 Employee Retention was a massive priority for UK organisations, and this will continue as a priority into 2023 (and beyond?)
In our State of the People Profession survey, 63% of HR respondents said that retention was a priority in their organisation.
Data from our 2023 insights report shows that just over 30% of employees plan to leave their employer in the next 12 months.
The Retention Business Case
You have invested in recruiting, developing and nurturing your people, and if/when they leave, there is a cost.
The CIPD has stated that the costs are between £1500 to £3000 per person, based on research in their Resources and Talent Planning Report 2022
So, to replace 100 leavers using this model is a cost of £150,000 to £300,000
But…this is only the cost of hire. Are there any other impacts?
Oxford Economics, in their report The Cost of Brain Drain, commissioned by Unum, state that there are operational costs to consider, as it takes time for individuals to reach their optimum performance level (see graphic below)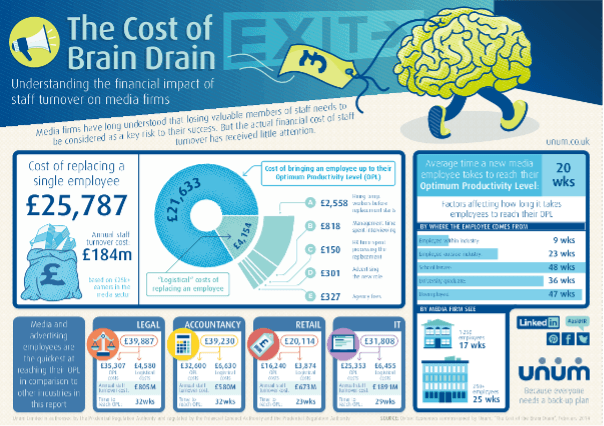 So the true cost of 100 leavers could be between £2m to £3.9m!
The business case for implementing retention initiatives is clear; it saves organisations time and money, protects productivity (and makes it more predictable) and allows organisations and their people to focus on doing what they do best!
But…
We are in a world where we are hearing that HR budgets are being cut every day!
52% of HR professionals stated that they did not have adequate funds in place to achieve their organisational goals
55% said that lack of budget was the number one issue
*State of the People Profession Survey
How to solve retention and create a return on investment business case
Our model, The People Experience Framework™, allows you to explore retention as an outcome, and we help clients see what the environmental drivers of retention are.
The top 8 across all our data are:
Line Managers who support their people
Line Managers who set challenging goals or expectations
An organisation that provides an opportunity to work flexibly
Access to Training and Learning to do the job well
People are treated fairly irrespective of their differences
An organisation that actively supports wellbeing
Change is clearly communicated
Work processes and policies that make it easy to get things done
Each organisation is different, and I have seen a real mix of environmental factors come into play when we are working with them to understand the drivers of outcomes.
Your Organisation is built different.
Knowing your organisation's data is important; if you are reading articles on retention, then great, but you have to know what is going on in your business if you want to stop guessing and move to solve retention.
Understanding the drivers of retention in your organisation will let you:
Go where the problem is and put resources and budget where it will deliver the most value
See who has high-scoring drivers and learn from them
Sustain the high-scoring driver areas
Allow your managers to focus on the few things that will deliver large benefits, rather than bombard them with a million different things to do
Measuring the Moments that Matter
McKinsey & Company have stated that there are five emerging HR operating models, in 3. EX-Driven they mention measuring the moments that matter along the Employee Experience Journey. (See image below for all 5)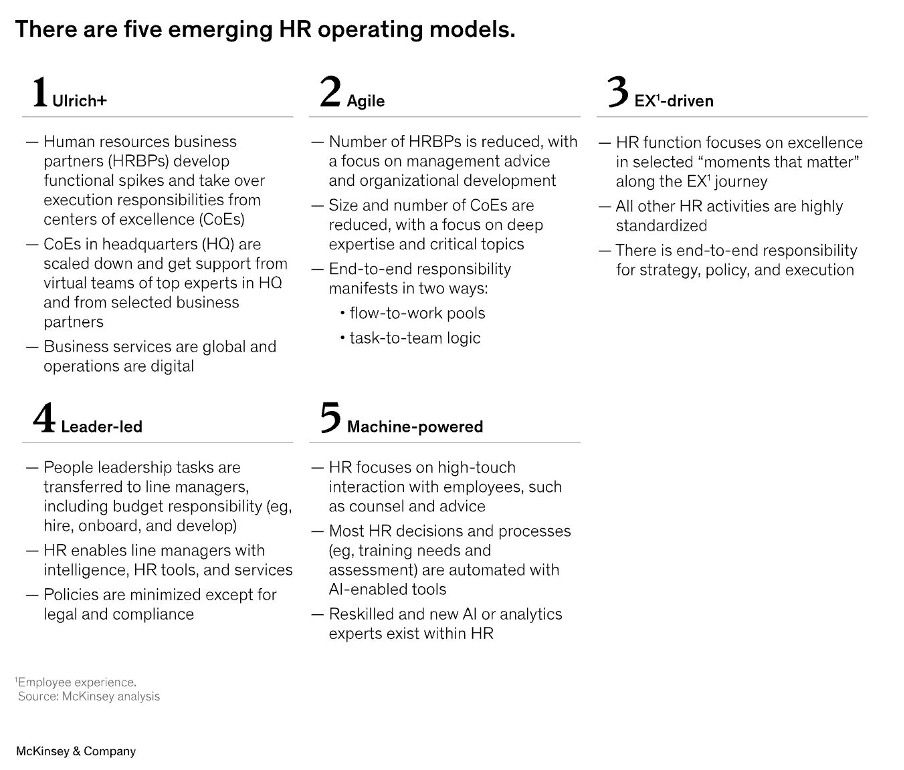 Using tools like:
Will allow you to capture data across the lifecycle of your people; these are typically low-cost solutions that, when done well and consistently, will give you rich information to enhance your other people data and allow you to see patterns and trends in the experience.
Understanding why people stay and leave, combined with understanding the experience at the start of the journey, will let you develop a strategy to not only attract but retain in the long term.
What next?
If I were looking at retention right now, I would start with building the business case for better data and helping the business leaders see where they can make the biggest gains without distracting from running the day-to-day.
Agree on a cost-per-hire figure that is right for your business, this may be different by grade or job function, but you now have a number.
Calculate the cost of attrition in your organisation (Leavers X Cost to Hire) so you can talk about the opportunity – "Retention to us in Org X is an opportunity to save £x million per annum and drive predictable productivity"
Review current lifecycle solutions for suitability

Are they all in one place?
Is the analysis easy to get and understand?
Can you see the insights clearly?
Can you show the data across the life of the employee?

Ask your engagement survey provider to give you the drivers of retention
Review the drivers and build the retention plan around

Improving any low-scoring areas
Sustaining any high-scoring areas
Return on Investment
Now that you have the above, you can build the Return on Investment for tackling retention.
| | |
| --- | --- |
| Cost of Attrition | £1,500,000 |
| Cost of Retention Initiatives | £50,000 |
| Expected Savings in Year 1 | £150,000 |
| Return on Investment | 300% |
Now that surely is a business case that writes itself!
Good luck, and if you want to discuss anything mentioned in this blog or want to talk about building a business case for retention, you can reach out to Nick here: Meet Nick