Taking you Behind The B! 
In November 2021, The People Experience Hub became a certified B-Corp but, our B-Corp journey started a long time before that! 
*Ominous music – thunder sound effect* 
Join me, Nick Court, as I take you #BehindTheB! 
Why did we decide to get certified? 
We are an organisation with a purpose and, our purpose is to transform the experience of people at work. We do this by helping organisations of all sizes understand their people better, find out what gets in the way of a great day at work and what boosts them up to achieve amazing things! 
We see our purpose as a societal one because the positive impact we can have on workplaces reaches into communities where our clients are based. 
So, for us becoming a B-Corp made absolute sense because: (Quote from the B-Corporation Website) 
B Corp Certification is a designation that a business is meeting high standards of verified performance, accountability, and transparency on factors from employee benefits and charitable giving to supply chain practices and input materials. In order to achieve certification, a company must:  
Demonstrate high social and environmental performance by achieving a B Impact Assessment score of 80 or above and passing our risk review. Multinational corporations must also meet baseline requirement standards.  
Make a legal commitment by changing their corporate governance structure to be accountable to all stakeholders, not just shareholders, and achieve benefit corporation status if available in their jurisdiction.  
Exhibit transparency by allowing information about their performance measured against B Lab's standards to be publicly available on their B Corp profile on B Lab's website.   
What makes us a B-Corp? 
Everything about us makes us a B-Corp! Our Values, the way we sought investment, how we work with and manage suppliers, how we work with clients…the list goes on! 
The overall B-Corp accreditation looks at the following areas: 
Governance

- Governance evaluates a company''s overall mission, engagement around its social/environmental impact, ethics, and transparency

 

Workers

- Workers evaluates a company's contributions to its employees' financial security, health & safety, wellness, career development, and engagement & satisfaction

 

Community

- Community evaluates a company's engagement with and impact on, the communities in which it operates, hires from, and sources from. Topics include diversity, equality & inclusion, economic impact, civic engagement, charitable giving, and supply chain management

 

Environment

- Environment evaluates a company's overall environmental management practices as well as its impact on the air, climate, water, land, and biodiversity.

 

Customers

- Customers evaluates a company's stewardship of its customers through the quality of its products and services, ethical marketing, data privacy and security, and feedback channels.

 
This is our score: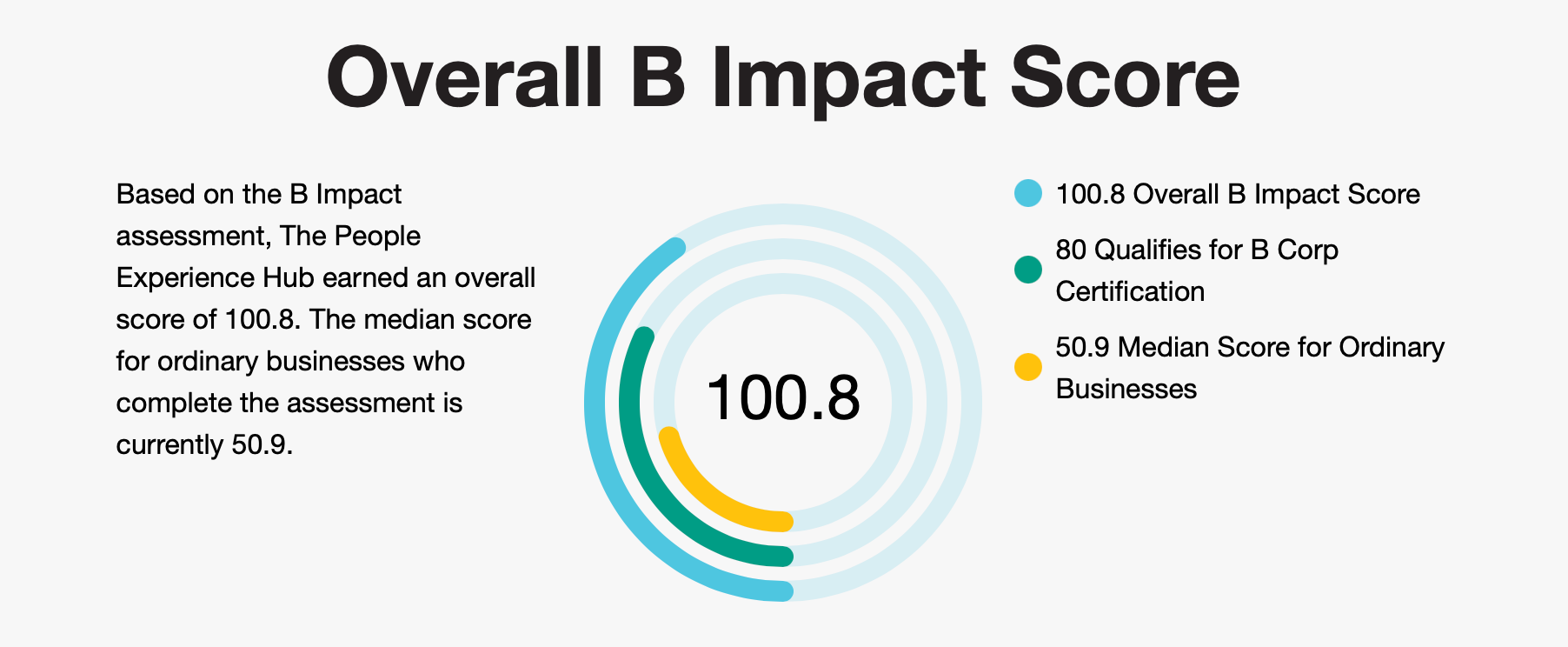 You can find us here - https://www.bcorporation.net/en-us/find-a-b-corp/company/the-people-experience-hub 
Our business isn't hugely different since we got accredited as a B-Corp as we always lived the B-Corp values but there are some things that have changed. 
We are part of a wider community 
Doing good in the world in which you operate is the right thing to do! But, when you do it as part of a global community it feels easier, it feels like you are part of something bigger. It feels like when you have a problem to solve there is someone else going through the same thing or someone that has already done it. 
I feel like the other B-Corps have our back, and we have theirs. 
We are held accountable 
"Show me" 
We cannot just say that we do something - we must prove it! The process to be certified as a B-Corp is robust and diligent. Having a 3rd party ask us to evidence that we do what we say, is just one part of being held accountable. 
As part of the B-Corp journey we have updated our company legal documents to the B-Corp wording, to ensure that our board also hold us to account. The role of our Directors, Chair and Non-Exec Directors is clearly set out, as is our shareholders agreement. 
No greenwashing here!  
Our goals for the year ahead 
We have a clear purpose both for what we do and how we do it and for the 2022/23 year we are now into our scale up phase. 
Of course, we have to deliver for our shareholders and our clients but, we also have a business to run and grow which means that we must make money. 
However, this does not distract us from ensuring our B-Corp related goals – if anything it compliments it. There is a reason that the B-Corp certification is designed to include business goals and stability too! 
For us the following areas are key: 
Roll out further employee ownership opportunities

 

Grow the business to achieve our financial goals

 
Review our services to see if we can do more for clients

 

Work with our facilities provider to make our office space more environmentally friendly

 
This is only the start for us and were so excited to see where our B-Corp journey takes us. In the meantime, we have been celebrating B-Corp month over on our social channels sharing all things #BehindTheB– you can check us out here